This April Fool's Day our merry band of award-winning chefs have whipped up a mouth-watering menu of dishes that aren't entirely what they seem. You'll be shocked to learn about some unsuspecting health benefits that will truly do a body good.
Bacon-Wrapped Jalapeños
One of our favorite appetizers is bacon-wrapped jalapeños. Just hearing the word "bacon" probably makes you think about hitting the treadmill. But did you know that those delicious fried strips have some surprising health benefits? Bacon contains choline which is considered a brain food. It is also protein-packed and a good source of Omega 3 fatty acids. Studies have found that it can even help minimize Alzheimer's.
In addition, these ingredients boast some powerful properties that when combined will give you super powers (ok, maybe not but it's still good for you):
Garlic - Boosts the immune system
Onion - Contains anti-inflammatory properties
Chicken - A valuable source of protein
Jalapeno - A Vitamin C powerhouse
Capsicum - Aids in circulation of blood and digestion
Cream cheese - A great source of calcium
Cilantro - Contains many vitamins and minerals that remove toxic metals from the body
Who would have thought?
Vegan Carrot Dog
With the start of baseball season approaching, the craving for hot dogs skyrockets by 90% (trust us, it's scientifically proven). But if you want something healthy without the tubular meat, try a delicious plant-based take on the traditional American favorite.
Prep Time
24 hours
Cook Time
15 mins
Total Time
24 hours 15 mins
Number Servings: 8-10
Ingredients
8-10 medium organic carrots
2 cups of water - approximately
1 teaspoon liquid smoke
¼ cup Bragg's Aminos or Tamari sauce (or soy sauce)
1 clove garlic, minced
1/4 tsp dried ginger
1/4 tsp black pepper
1/8 tsp granulated onion powder
1 teaspoon kosher salt (leave out if using soy sauce)
¼ cup water
¼ cup rice wine vinegar
1 Tablespoon maple syrup
How to Do It
Peel the carrots.
Place about 2 cups of water in a skillet and heat to boiling; add carrots and cover, simmer along for 8-10 minutes or until carrots are fork tender. Do not overcook!
While carrots are cooking, prepare your marinade by combining the last 7 ingredients into a small bowl.
When carrots have cooked sufficiently, immediately pour contents of pot into a colander and drain, then run cold water over carrots to stop the cooking process.
Place carrots in an air-tight container large enough for all the carrots to lay flat (a zip style plastic freezer bag also works well). Place in refrigerator and allow carrots to marinate for 6-24 hours.
Place carrots and a few tablespoons of marinade in a hot non-stick skillet, and cook, allowing marinade to caramelize the carrots and create a nice brown exterior coating.
If you prefer, you can bake the carrot dogs in their marinade for 10-15 minutes at 350 degrees, turning halfway through to brown evenly or you can grill them over low coals.
Serve with your favorite sides and toppings.
Did You Know?
One hot dog and bun with zero toppings (and let's be real, who eats just one hot dog with nothing on it?) easily racks up more than 300 calories and almost 40 percent of our daily recommended salt intake.
Carrots, at about 50 calories each, are perhaps best known for their rich supply of the antioxidant nutrient that was actually named for them: beta-carotene. However, these delicious root vegetables are the source of not only beta-carotene, but also a wide variety of antioxidants and other health-supporting nutrients. In addition, there are cardiovascular and anti-cancer benefits so it's not too late to listen to mom and eat your carrots!
Chicken 'n Falafel-Waffle
Chicken. Waffles. Syrup. Mmmmm.
Sometimes that craving hits and you just want to indulge in some soul food. But that little voice in your head is telling you to eat healthy. Well now you can do both! Make a falafel, add some grilled chicken skewers, drizzle it all with Harissa "syrup" and BAM you have the best of both worlds.
Falafel Waffles
2 cups dried chickpeas
2 cloves garlic
1⁄2 cup chopped + packed flat-leaf parsley
1⁄2 cup chopped + packed cilantro
11⁄2 Tbsp. ground cumin
11⁄2 tsp. ground cinnamon
2 tsp. ground coriander
11⁄2 tsp. salt
1 tsp. cracked black pepper
Zest of 1 lemon
3 Tbsp. freshly squeezed lemon juice
2/3 cup chickpea flour
1/4 cup water, as needed
1 tsp. coconut oil for greasing the waffle iron

Directions:
1. Cover chickpeas with plenty of water and 2 Tbsp. freshly squeezed lemon juice or apple cider vinegar. Let soak for 24 hours. Drain and rinse very well. Set aside.
2. In a food processor mince garlic. Add the chickpeas, chopped herbs, spices, lemon zest and juice. Pulse until the chickpeas are very finely minced, but not paste-y. Transfer contents to a large mixing bowl.
3. Add the chickpea flour and mix well, then add the water a few spoonfuls at a time until the mixture holds together well when pressed.
4. Heat your waffle iron to medium-high. Brush with a little coconut oil. Divide the falafel dough into 10-12 equal portions, Gently pack each portion together so that it holds well, especially around the edges. Flatten out the portion you are using and press into the hot waffle iron, lower the lid and cook anywhere from 5-10 minutes, depending on your equipment. The falafel is done when it is golden brown and crisp. Remove from waffle iron and place in a warm oven until ready to serve.
Indian Spiced Chicken Skewers
1 cup plain yogurt
1/4 cup lemon juice from 2 lemons
3 tablespoons extra-virgin olive oil
1 tablespoon finely grated peeled fresh ginger
1 tablespoon kosher salt
2 teaspoons smoked paprika
2 teaspoons hot paprika
2 teaspoons freshly minced garlic (about 2 medium cloves)
1 teaspoon freshly ground black pepper
1/2 teaspoon ground cumin
1 teaspoon tumeric
2 pounds skinless, boneless chicken thighs, cut into 1 1/2-inch cubes
Directions:
1. Whisk together yogurt, lemon juice, oil, ginger, salt, smoked paprika, hot paprika, garlic, black pepper, cumin, and tumeric in a medium bowl. Place chicken in a large resealable plastic bag. Pour in marinade and seal bag, removing as much air as possible. Place in refrigerator and marinate for 4 to 8 hours.
2. Thread chicken tightly onto skewers.
3. Grill skewers until well browned on all sides and center of chicken registers between 160-165°F on an instant read thermometer, 3-4 minutes per side. Transfer skewers to platter and let rest for 5 minutes.
Harissa "Syrup"
4 ounces dried Anaheim chiles
1 teaspoon caraway seeds
1 teaspoon coriander seeds
1 teaspoon cumin seeds
3 to 4 garlic cloves, peeled
1 teaspoon kosher salt, or to taste
2 tablespoons extra virgin olive oil, plus more for storing
Optional additions: fresh lemon juice, preserved lemon, fresh or dried mint, fresh cilantro, sun-dried tomatoes, tomato paste, cayenne, paprika
1 C Agave Syrup

Directions:
1. Soften the chiles. Place the chiles in a heatproof bowl and cover with boiling water. Let stand for 30 minutes.
2. Toast the spices. While the chiles are soaking, toast the caraway, coriander, and cumin in a dry skillet over low-medium heat, occasionally shaking or stirring to prevent burning. When the spices are fragrant, remove them from the pan.
3. Grind the spices. Grind the spices in a mortar and pestle, spice grinder, or coffee grinder.
4. Drain the chiles. Drain the chiles, reserving the liquid.
5. Stem and seed the chiles. Remove and discard the stems and seeds from the chiles.
6. Combine the chiles with spices, garlic, and salt. Combine the chiles, ground spices, garlic, and salt in the bowl of a food processor. (You can also use a mortar and pestle.) Make a paste. With the food processor running, slowly drizzle in the olive oil and process to form a smooth and thick paste. Scrape down the sides of the bowl occasionally. If a thinner paste is desired, blend in a little of the chile soaking liquid until the paste has reached your desired texture.
7. Taste and adjust seasonings. The flavor of the harissa will deepen over the next day or two, but you can taste it now and add more salt or other optional ingredients to your liking.
8. Top with olive oil and store. Transfer the harissa to a jar and cover the surface with a thin layer of olive oil. Cover the jar and refrigerate for up to a month, adding a fresh layer of olive oil on the top each time you use the harissa.
Mix 2 parts agave syrup with 1 part harissa paste to make the waffle "syrup."
Breakfast is Served… Or Is It?
Rise and shine! Hope you're hungry, because we made you a hearty breakfast of eggs, bacon, toast, potatoes and coffee. But wait a sec…is that…really breakfast???
April Fools! It's actually dessert! Executive Pastry Chef Kurt and his Culinary Con Artists whipped this up for a gala dinner for 500, and it is too good not to share with you. Can you guess what these items really are?
3…
2…
1…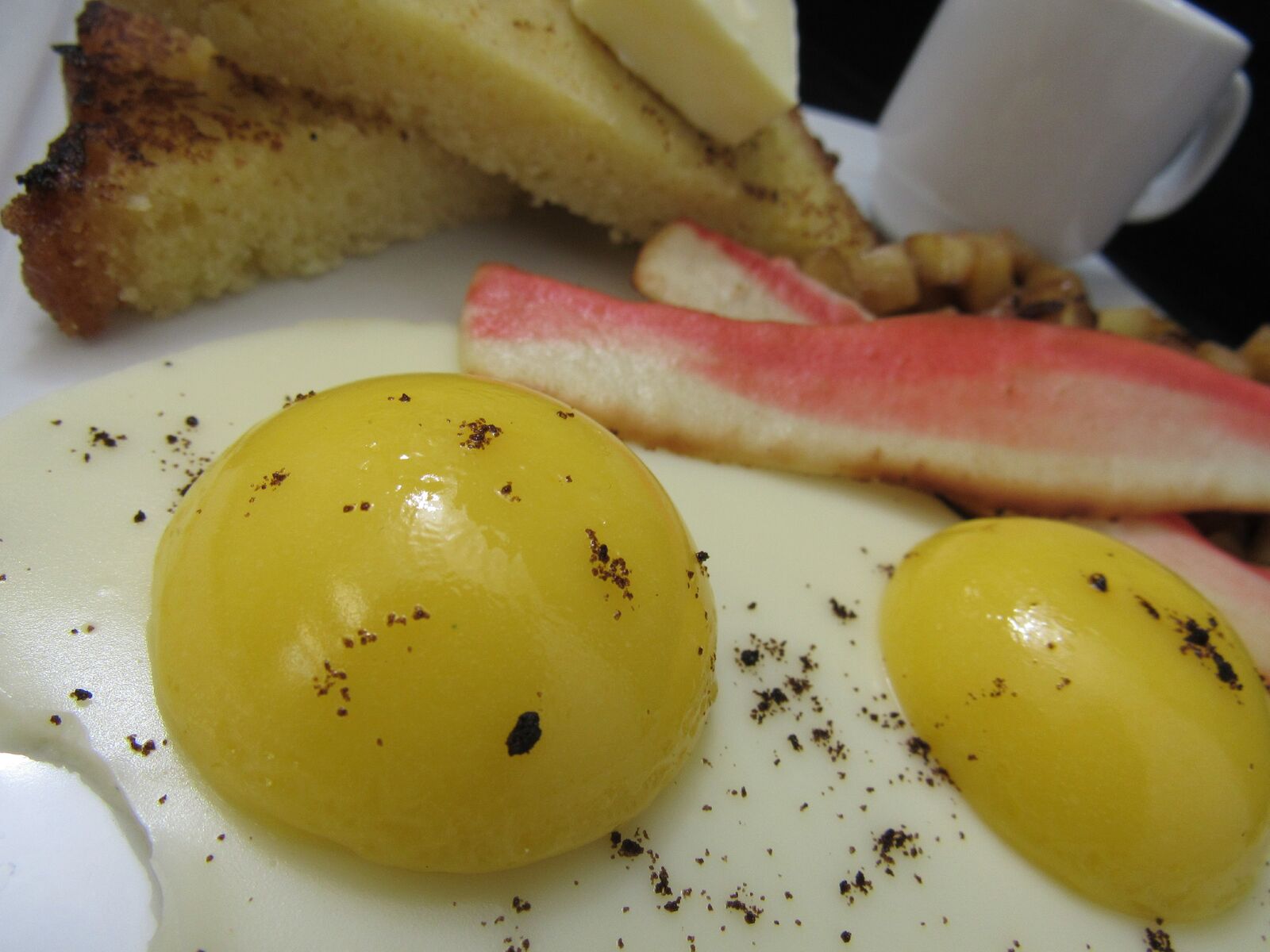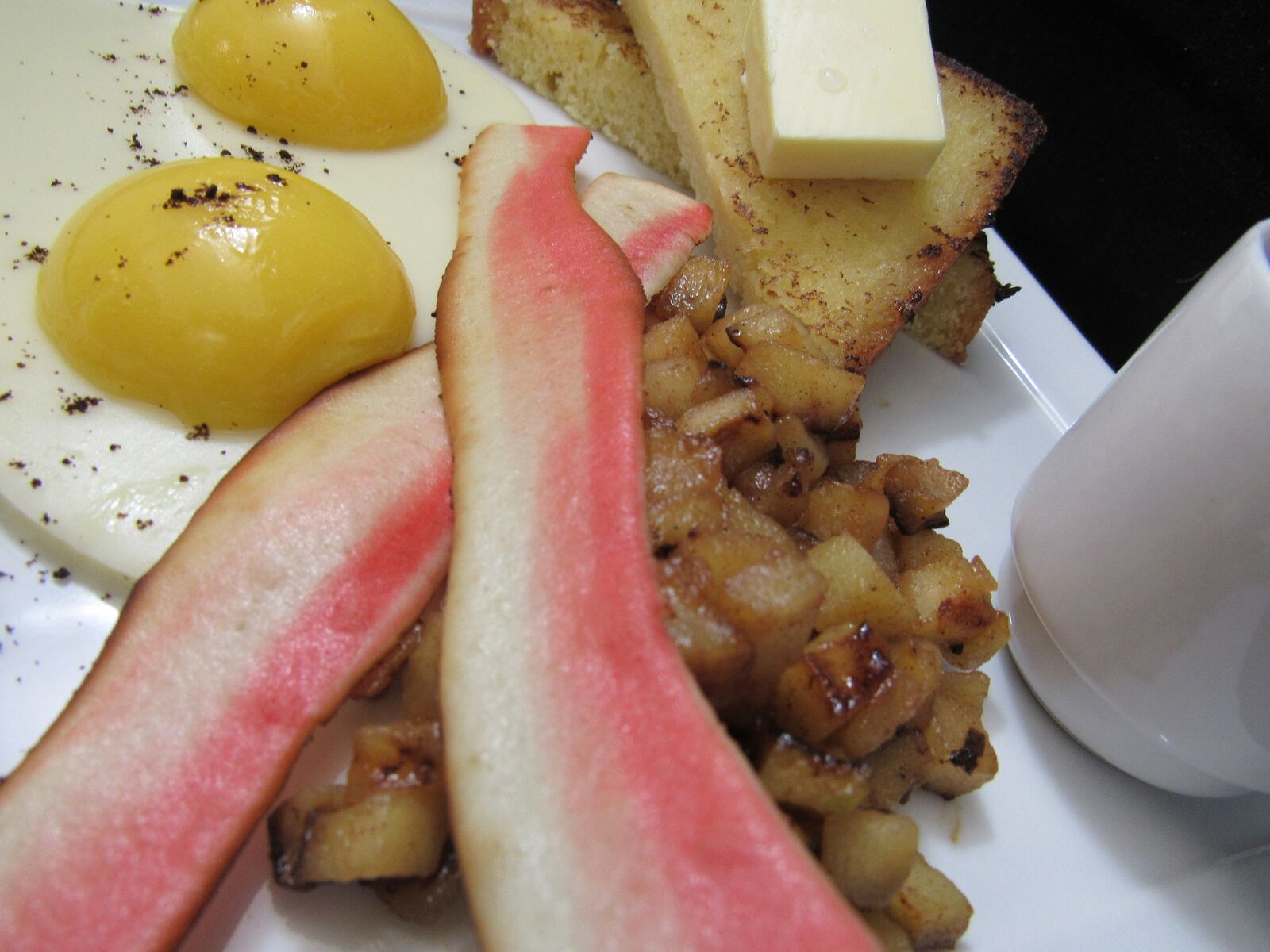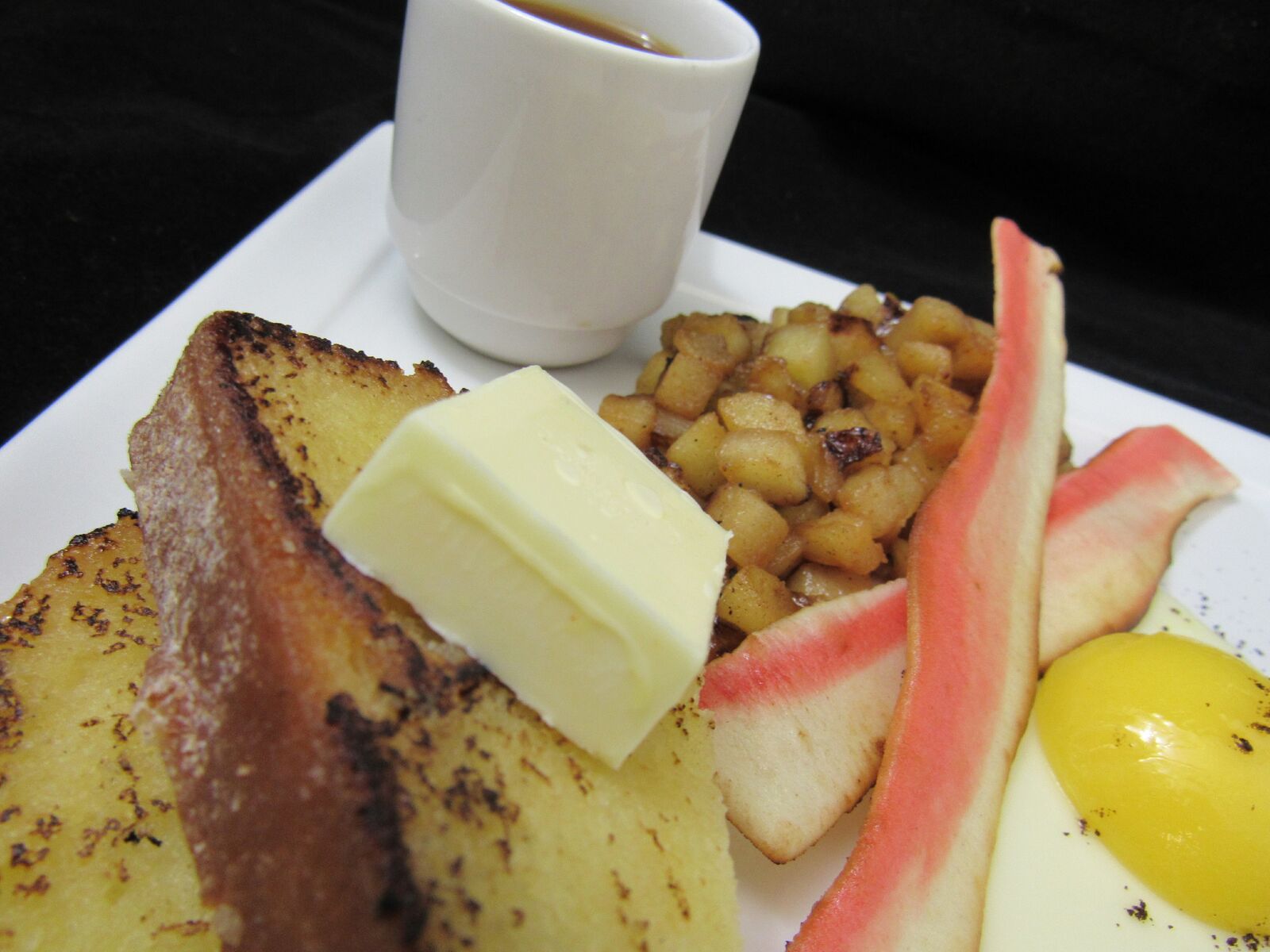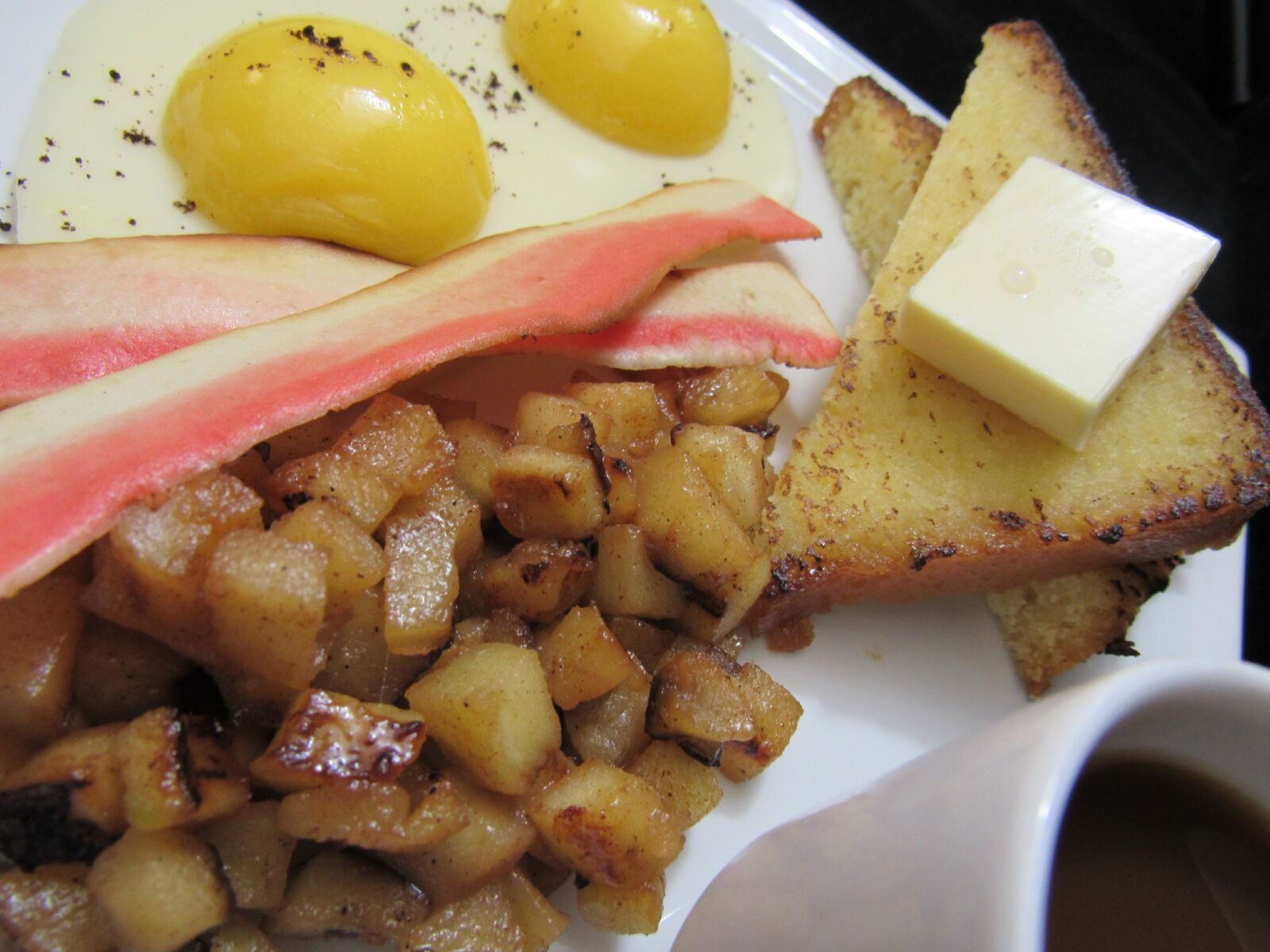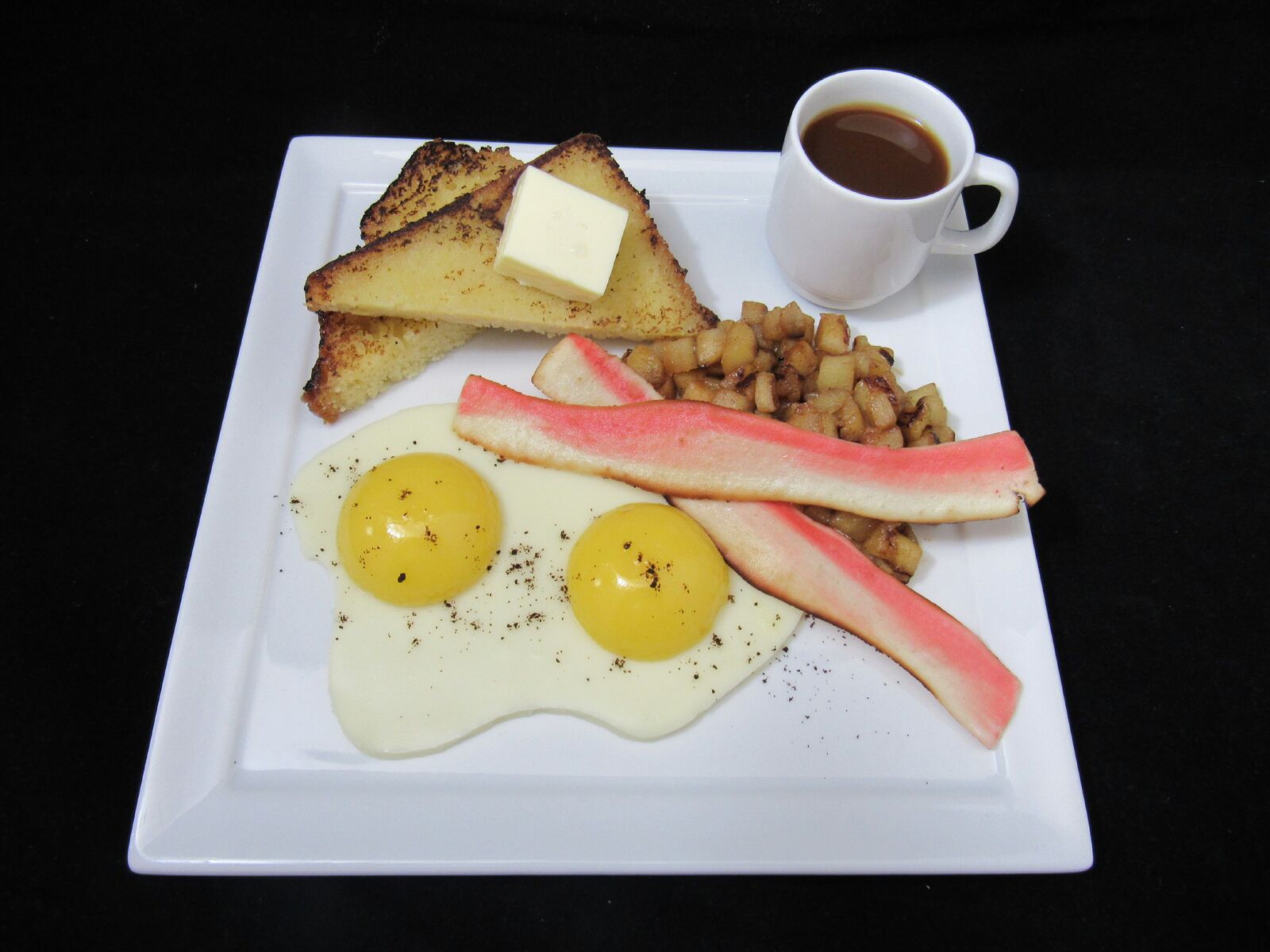 We love our Pastry Pranksters! 😳